Last Update April 25 2022
Medicine Hat and District
Germans from Russia Society


Medicine Hat and District Germans From Russia Society is the result of a desire to pay tribute to the Germans from Russia ancestors. The Festival of GFR of 2005 was hosted by many volunteers to celebrate their heritage. Out of the original group of volunteers another small group wanted a more permanent remembrance of their ancestors. The Legacy Project was proposed. Funds from the Festival and personal donations resulted in the building of a small bronze statue of a man and a woman harvesting grain, denoting the early settlers of this area of Canada. This group of individuals formed a society to build a life sized statue and be placed in front of the Esplanade in the city of Medicine Hat. The Legacy Project was completed at a cost of $144,897. The Project took many years and many hours to complete and was funded by donations from individuals, corporations and government programs.The three-figure monument was sculpted by Jim Hauser, a local artist of Germans from Russia heritage, whose art has been true to the technology and social history of farming and ranching in Western Canada.
The following is inscribed on a plaque mounted on the monument:
"Germans from Russia and their descendants dedicate this monument to all immigrant pioneer settlers in Western Canada as a tribute to their sacrifice in building this new land of freedom and opportunity."
The Legacy Project Progress
The artistic process of the Jim Hauser life-size bronze sculpture:
Thank you to all who have, in any way, contributed to The Legacy Project. The Medicine Hat and District Germans from Russia Society are very proud of this Project and its significance to the City of Medicine Hat.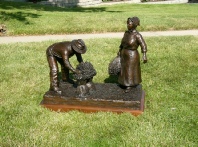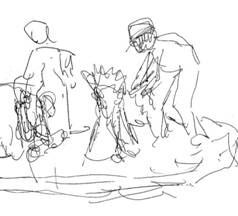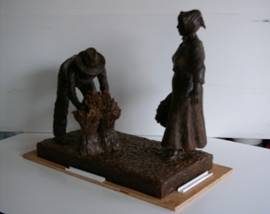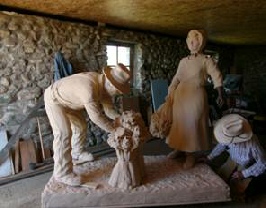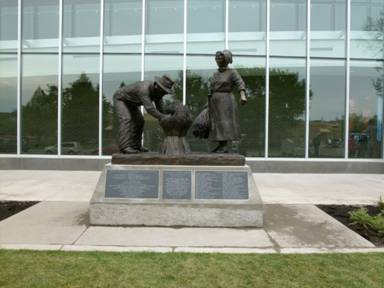 From this: Jim Hauser sketch
To this: quarter-size wax model
To this: quarter- size bronze maquette
To this: life-size Styrofoam and clay model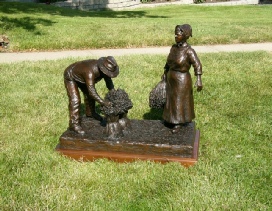 Next steps: The artist Jim Hauser applies clay to the life-size model; a casting mold is then made; the bronze casting process is carried out, followed by the installation.
Legacy Project Completion
Our Society has an ongoing oral history project entitled
"Life Stories - Germans from Russia and Eastern Europe". Starting in 2017 long time residents in the Medicine Hat district were videotaped to record and preserve their life stories. These recording can be viewed at
https://www.shaw.ca/shawtv/medicinehat/shows/shawtv/